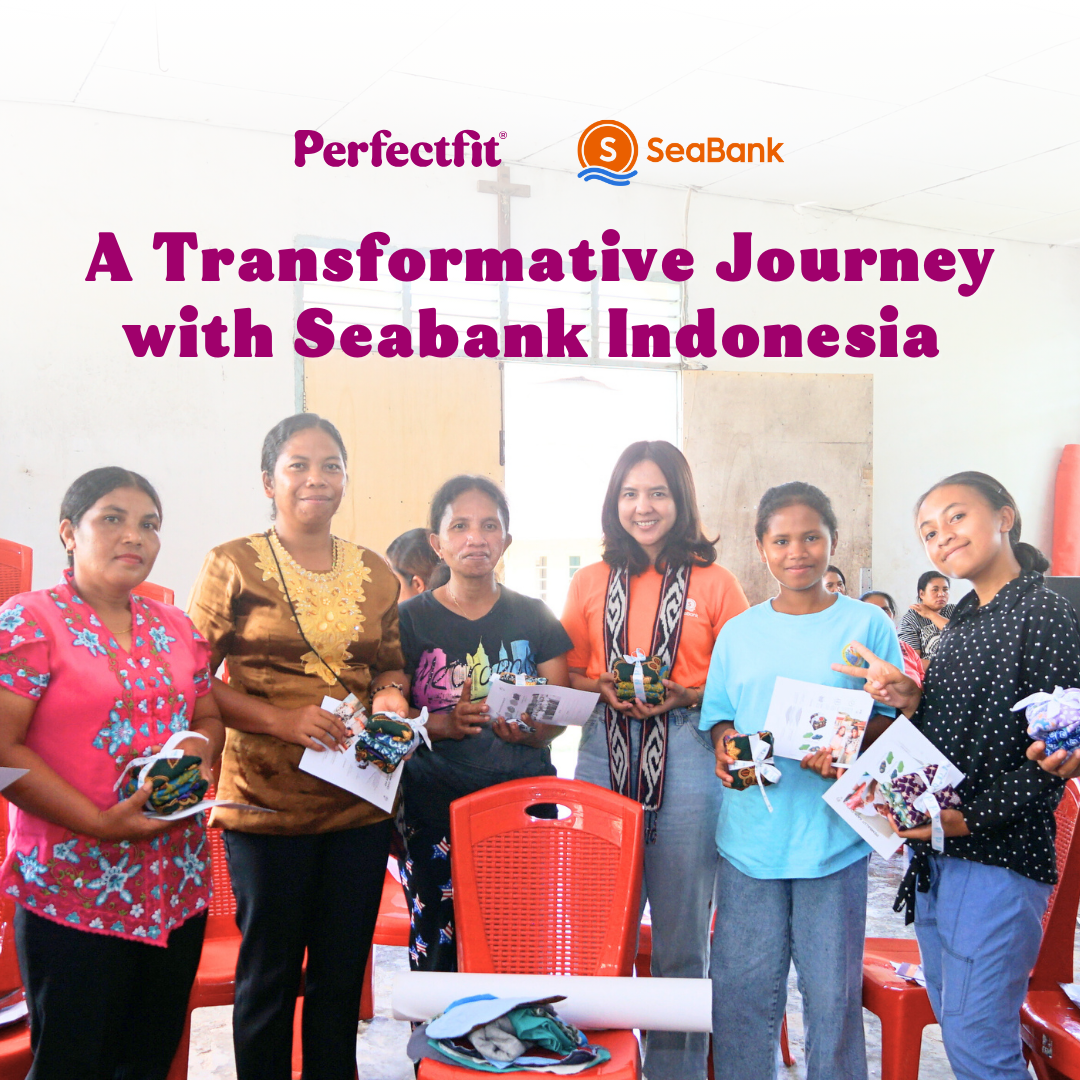 Empowering Communities: Perfect Fit and SeaBank Champion Period Positivity and Financial Inclusion in Rural Flores
Written by Rhiannon Hardy
Perfect Fit has been providing accessible menstrual health education in rural areas surrounding East Nusa Tenggara since 2018, by doing workshops to local communities and schools, debunking period taboos and promoting sustainable products. Perfect Fit has been partnering with many organizations and clients to reach more women and girls in Indonesia.

In our most recent partnership, we were delighted to collaborate with SeaBank Indonesia to empower women with financial literacy and sustainable period products. The CSR project aimed to inform and inspire women in the community to have more control over their finances, as well as breaking taboos and myths surrounding menstrual cycles. Many women in these rural areas have never had access to sufficient education about menstruation, and thus are not equipped with the correct knowledge to manage their periods properly. Perfect Fit teamed up with SeaBank to provide informative educational workshops and reusable pads to 300 women and girls in Manggarai Barat regency.

Who is SeaBank?

SeaBank is a digital financial institution, an extension of SeaGroup Singapore. SeaBank Indonesia has recently been awarded the 'best bank performance of MSMEs loans 2023' for its successful commitment to providing micro, small and medium enterprise financial investments that are beneficial to the enterprise whilst maintaining strong monetary value. The Seabank team are passionate about improving the financial well-being of those in rural villages where there is limited education surrounding assets, debts and savings and thus there is often a web of unmanageable debts between neighbors and families.

What was delivered by Perfect Fit & SeaBank?

The collaboration aims to empower women and girls in rural areas with period positive knowledge and products, as well as promoting financial inclusion. It is part of Seabank's CSR and Women @Seabank activities, in which the company integrated its social responsibility projects to their internal women empowerment programs.

We conducted one dedicated workshop to 40 women and girls in Rekas Village, 1.5 hours away from Labuan Bajo, that was tailored to the specific needs and experiences in this village. SeaBank began with a guided lesson on understanding the assets that each woman owns such as scooters, rice paddies, jewelry and animals and the monetary value that they hold. Followed by an understanding of debts such as loans they may have taken to purchase their scooter. Furthermore, they discussed how to build a sustainable monthly budget with their routine and non-routine income and expenses. Since many of the families rely on income from rice paddies, their income is not regular. This means that financial planning is particularly difficult and can be overwhelming to manage. Therefore, having a better understanding of saving methods and installment plans empowers women to succeed in return payments and not feel the burden of debts.
Finally, some of the women expressed concerns about how to increase their income in order to not face so many debts. Lindawati Octaviani, Director of Finance of SeaBank Indonesia, suggested saving techniques the women could implement into their everyday lives which are easier to achieve than a direct increase in their income. For instance, using bars of soap rather than liquid soap, taking shared trips to the city to save petrol or cutting their hair shorter to save on hair products.

Perfect Fit ran an extremely informative workshop which aimed to encourage girls and women to discuss menstruation and menopause with one another and their daughters more openly. Due to a considerable lack of education or discussion many menstrual myths remain unsquashed in these rural villages. For instance, many of the women still believe they cannot wash their hair or pray whilst on their periods. In addition to breaking down taboos, Domi and Ririn (Perfect Fit educators) discussed the length and stages of a menstrual cycle and the challenges of PMS and puberty. The final stage of the workshop was a sewing lesson using the patterns of Perfect Fit's reusable period pad. The Perfect Fit team taught how using reusable pads is more sanitary, sustainable and cost-effective for women in the village. Therefore, educating the women and girls on how investing in reusable pads can help them with long term budgeting. As well as learning how, being able to sew their own reusable pads opens potential for another channel of income for them in the future.
Success in the Workshop

Overall, the collaborative workshop was a clear success in empowering and inspiring the girls and women involved to take more action in being financially responsible within their community, as well as improving their understanding of sanitary and sustainable period products.
Elin, a teacher from the village, reported that the workshop has inspired the younger girls to continue learning new things because of the positive energy Perfect Fit and Sea Bank bought. Elin also said that the housewives felt inspired that they have more ability to support and improve their families economy than they thought. The workshop gave them more confidence in understanding and talking about finances and menstruation within their community. We are proud to learn that they hope there are more activities and opportunities like that of Perfect Fit's workshop that come to their village in the future.