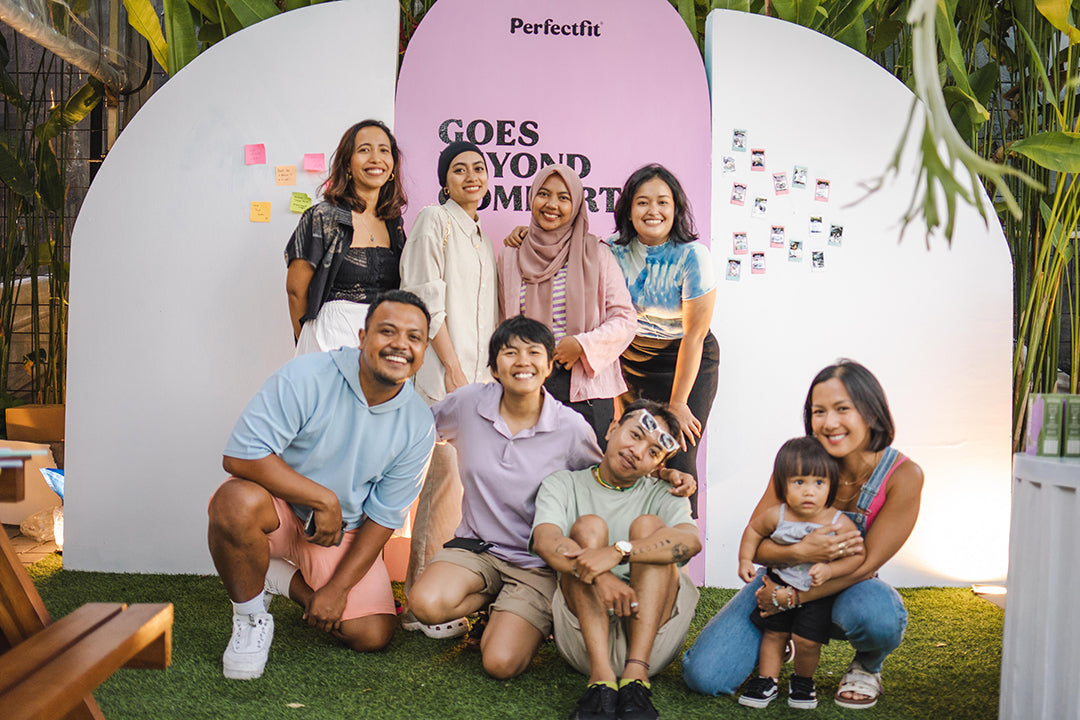 Unlocking Lessons from "Period and Prejudice": Celebrating Menstrual Hygiene Day in Indonesia with Perfect Fit
by Febby Clarissa
"Period and Prejudice" is an event that brought together individuals who are passionate about menstrual health, sustainability, and breaking taboos surrounding menstruation. Aligned with this year's Menstrual Hygiene Day (MHD) theme, #WeAreComitted, Perfect Fit featured a diverse range of exciting activities. This includes a panel discussion, a paint and sip session, and an acoustic intimate concert to spread more awareness regarding period poverty to a wider audience. The discussion revolved around various topics ranging from the inside story of how marginalized women in rural Indonesia cope with the lack of access to menstrual care, tips on staying (physically and mentally) fit during periods and sustainable living practices. Let's delve into the essential highlights from our Period Prejudice event.
Lesson 1: The Urgent Battle Against Period Poverty Requires Collective Efforts
Period and Prejudice was opened by an insightful discussion by Tungga Dewi, our CEO who has 6 years of experience working in the research and menstrual health sector. She has witnessed the silent struggle of marginalized women in dealing with the lack of education, access to menstrual care, and proper sanitation facility. Sharing it with the attendees, many are still surprised by how significant the challenges faced by women in rural Indonesia are, which somehow validates the lack of awareness imposed on this matter. The discussion concludes that by not addressing this issue to the mass audience can potentially jeopardize their well-being and dignity as unprivileged women. Collective efforts can stimulate awareness about the prevalence of period poverty. By giving a needed exposure on this matter, we can challenge current harmful stigmas, debunk stigma, and foster a supportive environment that will initiate collaborations with organizations and businesses to provide access as well as free menstrual products for marginalized women. As a result of this eye-opening conversation, the attendees did an immediate action to help end period poverty by participating in the open donation provided.
Lesson 2: The Lack of Information and Education About Better Menstrual Products Choices in Indonesia.
Period underwear is a revolutionary innovation to fill the market gap in Indonesia and to meet the needs of menstruators who are willing and able to invest more on menstrual products that comfortable, sustainable, and does not require insertion like tampons or cups. However, in Indonesia, many women remain unfamiliar with the existence of period underwear. In fact, many attendees recently discovered period underwear and reusable pads at the Period and Prejudice event. With limited exposure and access to information, menstruators in Indonesia have yet to fully explore other menstrual products options. Many have been conditioned to rely solely on single-use pads, unaware of the comfort, sustainability, and cost-effective alternatives to period underwear. Through initiating discussions, campaigns and offline events, Perfect Fit helps bridge this knowledge gap. As a proof, after being well-informed about the advantages of period underwear, many of the attendees purchase the product and feel empowered that they now have many more options to use We believe that giving more choices to women can empower them to manage their menstrual health with comfort, dignity and sustainability. 
Lesson 3: Unlocking the Power of Art and Creativity to Establish Connections with Womb Stories
In our paint and sip session, we provided the attendees with the opportunity to tag along with a period-themed artwork and a blank canvas to fully express themselves. Through this activity, attendees can let out their personal experience, emotions and ideals they have associated with periods. We are delighted to witness how this activity can nurture a sense of community and create a sense of safe place for the attendees to share and have insightful discussions.
"Period & Prejudice shines a light on the crucial issues of menstrual health, period poverty, and environmental sustainability. Together, we are raising awareness and working towards a future where every woman has access to education, products, and sanitation facilities." - Tungga, CEO of Perfect Fit.
Our warmest gratitude to,
Simavi for making this event possible,
Stuja Coffee for letting us host the event at their lovely venue,
Every community, everyone who came and participated in Period and Prejudice.